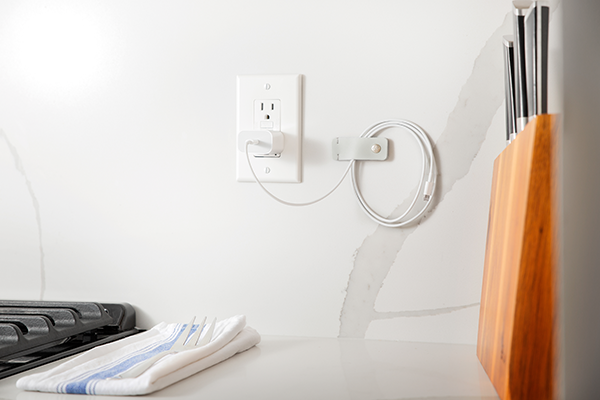 Twelve South SurfaceSnap 3-pack, Dove Grey
by Twelve South
A whole new, beautiful way to tidy up cables.
---
SurfaceSnap reinvents cable management in the form of elegant leather bands with button snaps. Attached to nearly any surface, SurfaceSnap keeps charging and computer cables tidy and from slipping to the floor. You can attach these thin leather bands to monitors or stands like Curve for MacBook. Adding and removing cables to SurfaceSnap is literally a snap. SurfaceSnap's strong adhesive leaves no trace when removed. Available in Black or Dove Grey, each SurfaceSnap pack includes two single and one double-winged cable organizer.
SurfaceSnap upgrades your cable management options in a big way:
Ultra-slim, genuine leather cable organizers with a metal snap
Elegant enough to add cable management in places you never would before
Semi-permanent adhesive sticks to nearly any flat surface
3-Pack includes 2 singles and 1 double-winged SurfaceSnap


Flat out gorgeous cable management.
SurfaceSnap is made of genuine leather for an elegant polished look that complements the surface it's attached to. Unlike bulky, clunky cable managers that use weight to hold cables in place, the ultra-thin SurfaceSnap secures cables with a metal button snap. Neatly organize your workspace with cable management you'll want to see.
Sure, you can put SurfaceSnap there.
Because SurfaceSnap is made of thin leather, you can place it pretty much anywhere. On top of your desk, the edge of nightstand, the wall next to your desk, the back of monitor, on a Twelve South Curve. You get the idea. Along with sticking to almost any surface, SurfaceSnap also contours to curves for a finished look. And yes, the special adhesive on the back of SurfaceSnap is designed to you can remove and reposition without leaving sticky residue behind.
Literally a snap to use.
Peel the adhesive backing off SurfaceSnap and attach it any smooth surface. Use the metal snap to add or remove cables. That's it. An included double-winged SurfaceSnap is perfect to use where one cable mostly stays put, like your Apple Watch charging cable, and another, your Lightning Cable, travels with you.
Three SurfaceSnaps in one pack!
 Each SurfaceSnap pack includes two single button cable managers and one double-winged cable manager. Use all three near your work surface or strategically place them throughout your home or workplace. Choose from Black or Dove Grey. One you start using SurfaceSnap, you'll see cable management never looked so good.