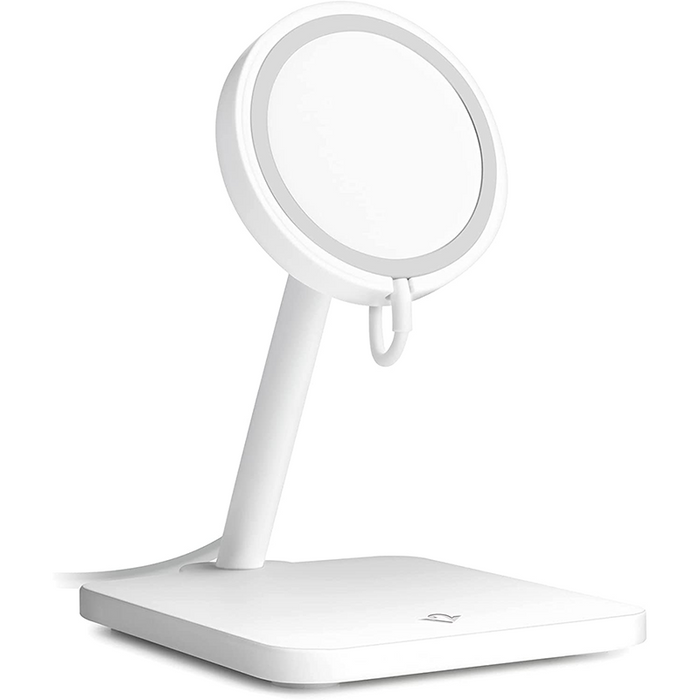 Twelve South Forte for iPhone with MagSafe
by Twelve South
Forté takes MagSafe from great to awesome

---
Forté for iPhone is a modern wireless charging stand made exclusively for iPhone 12 and the Apple MagSafe Charger. Snap your MagSafe Charger into Forté and you instantly have a clever way to dock your iPhone 12 while it wirelessly charges at a speedy 15 Watts. It magnetically holds your phone vertically or horizontally for hands-free use. As a bonus, the platform tilts up to 70-degrees to create the perfect viewing angle or charging pedestal for your AirPods. When it's time to travel, your MagSafe charger easily pops out to go. 
 Why Forté floats to the top of iPhone 12 charging stands:
Pairs with

 

MagSafe Charger for fastest wireless charging possible
Holds iPhone in portrait or landscape and tilts 70-degrees

 

Use as a pedestal charger for AirPods and AirPods Pro
Easily insert and remove MagSafe Charger (not included) for travel

 
Park & adjust your phone screen to face you! Then grab & go with one hand
Forté is the ultimate desktop, countertop or bedside charging stand for iPhone 12. Magnetically suspended on Forté, you can stream shows, FaceTime or attend Zoom meetings - all hands free. The top of Forté tilts 70 degrees to provide the perfect viewing angle. You can also position your phone in landscape or portrait mode. Forté creates the best MagSafe experience with the fastest wireless charging & iPhone 12 magnetic support you can use with one hand.
The perfect pedestal for charging AirPods
The bonus feature on Forté is that you can tilt the top to a 90-degree angle to create a perfect flat platform for charging AirPods and AirPods Pro. Just set your AirPods case on top of Forté and the wireless charging magnet will do its thing.