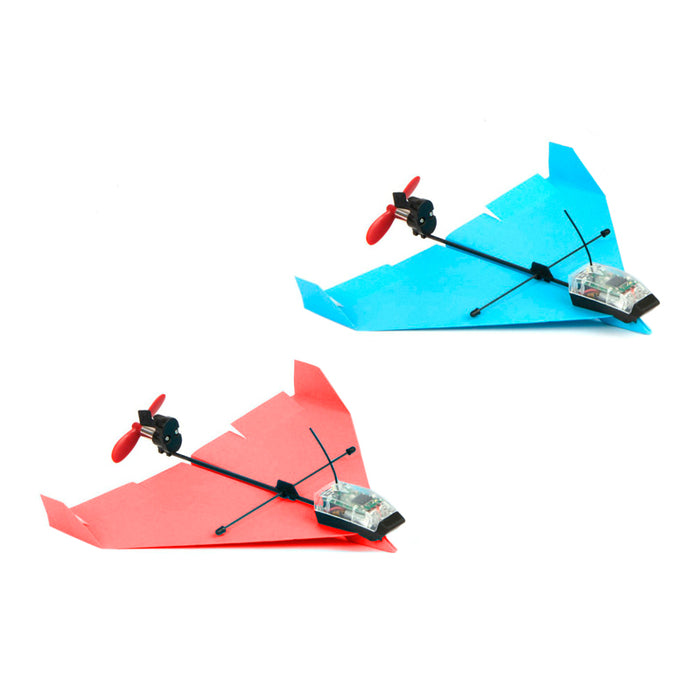 PowerUp DART App Controlled Paper Airplane
by PowerUp
POWERUP DART is a smartphone-controlled paper airplane that can do tricks and even Takeoff from the ground!

Get your paper airplane soaring as fast as 25mph!

Fold a small paper plane, attach the DART, and fly around your backyard, office or park with impressive accuracy. Takeoff and land from the ground & do cool tricks with an awesome paper plane jet you fold yourself.
Bring your favorite "blast from the past" to the present when you turn your paper airplane into a Remote-controlled flying machine!
Powerup paper airplane conversion kit features a crash-resistant design and will give your paper plane a massive 180 ft. (55M) range - truly a gravity-defying experience.
Equipped with Bluetooth Smart technology, you can control your plane with your smartphone through the power up app (iOS/Android compatible, check powerup website for more details).
Simple controls are fun for all ages: tilt smartphone/tablet from right to left to maneuver and use the throttle lever on the app to Ascend and descend.
Features battery level, charging status and range indicators plus an air traffic control attribute. New features! for easy on-boarding - boost - Nitro for extra power, in-app flight Academy, free template downloads, gesture control and gamepad controls.