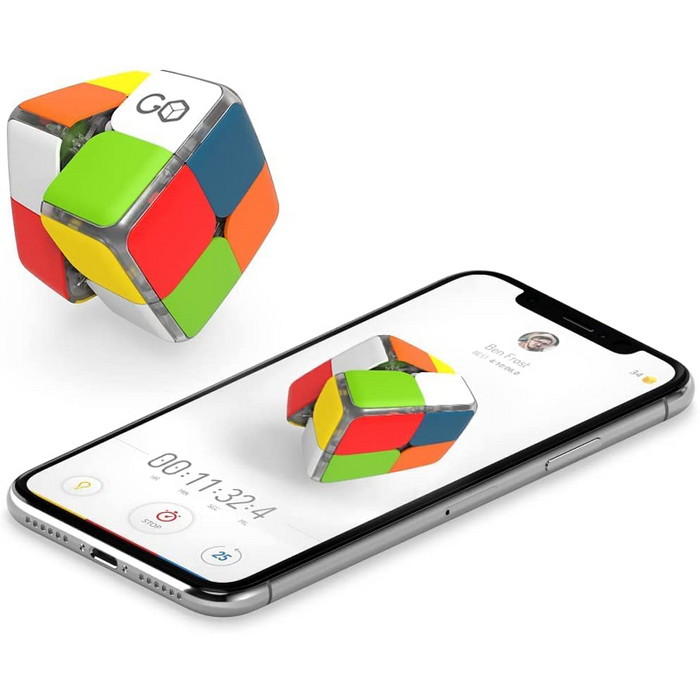 GoCube 2X2
by RevoIT-Asia.com
The First Ever 2x2 Connected Cube That Allows You to Learn How to Solve The Cube! App-Enabled STEM Puzzle That Fits All Ages and Capabilities. Free App.
SMART & CONNECTED - This smart cube wirelessly connects to your phone or tablet and allows everyone to LEARN how to solve the iconic puzzle Cube. THE PERFECT WAY TO GET INTO CUBING! And don't be fooled by it, the GoCube 2x2 is still VERY challenging ;) LERAN, IMPROVE & PLAY!

EVERYONE CAN SOLVE IT! - Use the mobile FREE application to learn how to solve the cube. Track your electronic cube progress, Get accurate stats to improve your solve time, challenge yourself and get better! Sharpen your skills and join our global leaderboard.

INNOVATIVE & EDUCATIONAL - The GoCube 2x2 is the perfect STEM toy, it is educational and fun, and adds tons of value to screen time! Learn the fundamentals of Problem Solving in a fun and interactive way, develop your child's memorization skills as well as hand & eye coordination. Proven to build Self-Esteem and Confidence. Oh, the look in their eyes when they solve it for the first time… ❤️

THE PERFECT GIFT FOR THE HOLIDAYS - The GoCube 2x2 is FUN, EDUCATIONAL and TECHIE. EVERYONE would love it! This is the best brain teaser, and a perfect gift for the holidays, especially when Covid is around and everyone is looking for new innovative toys to entertain their family! FITS ALL AGES & CAPABILITIES !!