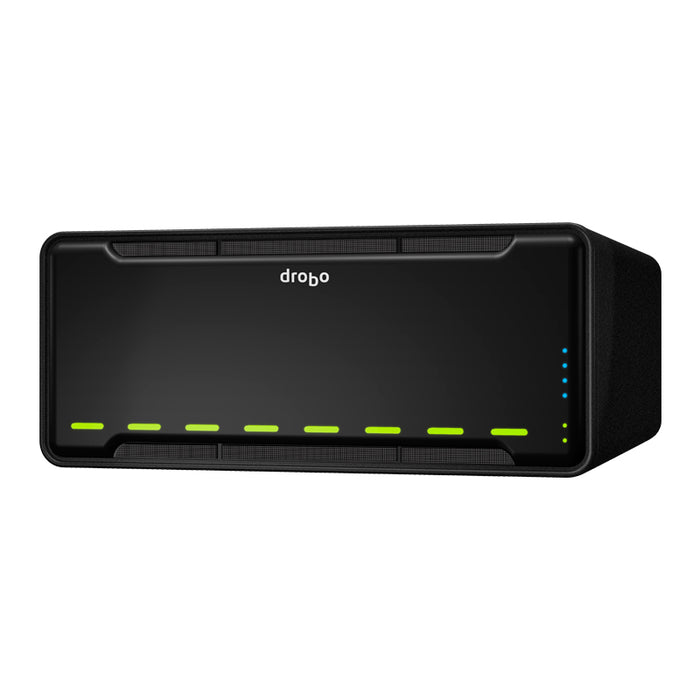 Drobo B810i 8-Bay SAN Storage Array for Business, iSCSI
by Drobo
Best in Class 8 Bay iSCSI SAN Array With Data-Aware Tiering
Built on award winning BeyondRAIDTM technology, the Drobo B810i disrupts IT economics by delivering SAN storage and advanced capabilities usually reserved for more expensive solutions. These features are delivered in a Drobo that preserves simplicity.

The Drobo B810i is optimized for small businesses to provide reliable and high performance storage to servers running applications like file services, data protection, email, and server virtualization. It integrates seamlessly into your TCP/IP network infrastructure and utilizes the industry-standard iSCSI protocol to provide simple, consolidated storage for your servers.

BeyondRAID Technology
A Drobo B810i iSCSI array can hold up to 8 SATA hard drives of any capacity. To expand the storage capacity of an array, BeyondRAID enables additional disk drives to be inserted into empty drive bays. These new drives are automatically and transparently configured for use in the array without user intervention. However, if all drive bays are occupied, simply replace the smallest capacity drive with a higher capacity one and BeyondRAID will do the rest.

Unlike traditional RAID arrays, the BeyondRAID technology in Drobo enables different drive capacities to work in the same unit. This enables future expansion as larger SATA drives become available. With Drobo, access to data is always maintained while it protects against simultaneous drive failures.

Smart Volumes and Thin Provisioning
Create new volumes up to 64TB in seconds and manage them over time with ease. The innovative and timesaving Smart Volume management technology with Thin Provisioning integrated into the Drobo B810i allows volumes to pull storage from the common pool of disks rather than a specific physical disk allocation. The labor of resizing and migrating volumes is replaced with the simplicity of intelligent engineering. Drobo B810i supports 255 Smart Volumes of up to 64TB each.

Hybrid Storage and Tiering
The Drobo B810i moves beyond manually tuning an array for applications that have different storage requirements. Its ability to automatically tier frequently used transactional data from stored data that's seldom used enables businesses to consolidate storage resources, and share that storage across all connected clients and their applications.

When using the hybrid storage option, Drobo's Data-Aware Tiering leverages high-capacity hard disk drives (HDDs) for bulk storage, and high-performance solid state drives (SSDs) for both read and write acceleration. Drobo B810i can use the same SSDs to deliver both a Data-Aware Transactional Tier and Hot Data cache at the same time. The result is fast redundant storage with a fast read cache for an application-optimized solution that requires no manual tuning.

Optimizing Business Applications
Drobo is ideal for building your first scalable backup server or server virtualization cluster. Drobo technology is often used with many wellknown backup products including Veem Backup, VMware vSphere, Acronis and Symantec Backup Exec 15.

Rack Mount Ready, Desktop Quiet
Drobo B810i can be deployed in a server room for IT use or on a desktop for workgroup sharing of storage, thanks to its compact design and quiet operation. Dual smart fans automatically manage their speeds to optimize cooling and minimize operating noise (Drobo B810i rack mount sold separately).

Drobo Dashboard
Drobo Dashboard is an easy-to-use administration tool to centrally manage all your Drobos. It displays the status of all of your Drobos as if they were right in front of you.

In fact, it provides the same status lights and storage capacity usage gauge that are on the front panel of each of your Drobos. So wherever you are, you can check the health of all your disk drives and know that Drobo has your back, keeping all your data safe. Plus the dashboard handles all administration tasks simply and easily without you needing to become a storage expert. Quite simply, this is the easiest way to configure and manage business-class storage.

DroboCare
Drobo products are engineered to the highest standards, but occasionally something goes wrong and that's when we kick into high gear. DroboCare is simple, powerful protection for your Drobo storage. The DroboCare support program extends your peace of mind beyond the standard warranty term and the phone support included with your Drobo purchase. DroboCare gives you more, even during your standard warranty period.

Which Drives Are Right for my Drobo?
---
Drobo B810i Specifications
Connectivity
2 x Gigabit Ethernet ports
1 x Gigabit Ethernet port for management
Drives and Expansion
Up to eight (8) 3.5" SATA or solid state drives (SSDs)
4KN disk support
Drives of any manufacturer, capacity, spindle speed and/or cache can be used
No tools required for 2.5" SSD carriers
Expandable by adding drives or hot-swapping existing drives with larger ones
BeyondRAID Features
Thin Provisioning
Instant Expansion
Mixed Drive Size Utilization
Automatic Protection Levels
Single – or Dual-Disk Redundancy
Virtual Hot Spare
Data Aware
Drive Re-ordering
Management
Drive bay indicator lights, capacity gauge, status lights
Drobo Dashboard version 2.8 or later
Drobo Dashboard email alerts
File System Support
Mac OS X: HFS+
Windows: NTFS
VMware: VMFS
Network Protocols
iSCSI
CHAP Authentication
MPIO Support
Ethernet Features
Jumbo frames (up to 9000 bytes MTU)
Hardware Features
Carrier-less drive bays for 3.5" drives
Rackmount Kit 19"
Additional Software Features
Hybrid Storage
Automated Data-Aware Tiering
Automated Hot Data Cache
Drive Spin Down
Utilizing Linux Version 3.2
Warranty
One (1) year warranty in the US or outside the EU or two (2) year warranty in the EU
Size and Weight
Desktop or 3U Rack Mount Form Factor (rack mount kit optional)
Width: 12.17 in (309.1 mm)
Height: 5.46 in (138.7 mm)
Depth: 14.1 in (358.1 mm)
Weight: 16lb 3oz (7.4 kg) without hard drives or packaging
Power and Cooling
Internal Power Supply: AC Input – 100/240 VAC, 1.8/0.75 A, 50/60 Hz
Power Consumption:
- Idle System (standby, drives off): 13 watts
- Typical Idle System (drive spin down mode, eight (8) drives): 25 watts
- Typical Busy System four (4) drives): 82 watts
Dual, fixed cooling fans
Environmental Specifications
Acoustics – Normal Operation: 30.4 dB
Operating Temperature: 10°C – 35°C (50° – 95°F)
Non-Operating Temperature (storage): -10° – 60°C (14° – 140°F)
Operating Humidity: 5% – 80%
Certifications
Environmental: RoHS, WEEE, REACH
Regulatory: FCC Part 15 Class B; Canada ICES-003 Class B; CE Mark; CISPR22 Class B; VCCI Approval to V.3; ACA Approval to AS/NZS 3548
Safety: UL, cUL, CB
Box Contents
Drobo B810i
3 x 6ft (1.8m) Ethernet Cables
6ft (1.8 m) Power Cord With Power Supply
Quick Start Guide
International LED Labels for Front Panel (Dutch, French, and Japanese)