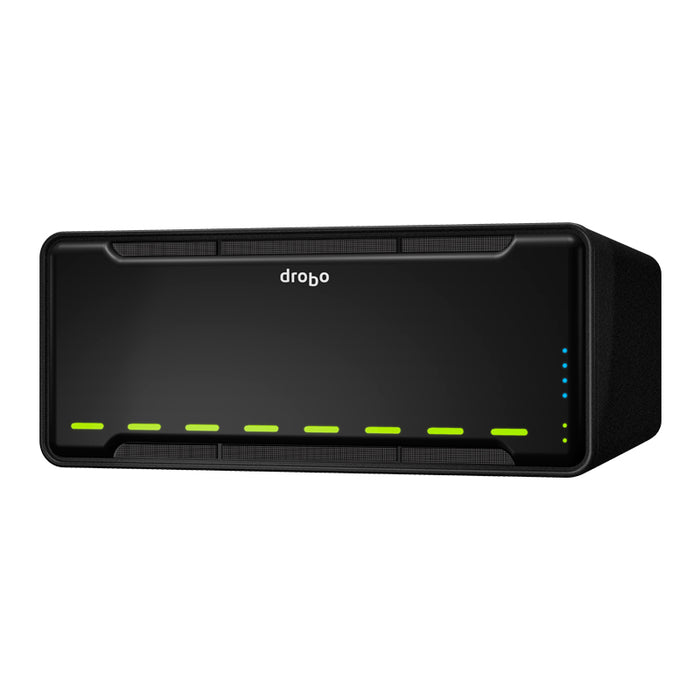 Drobo B800i 8-Bay SAN Storage for Business
by Drobo
Easiest-to-Use iSCSI Array … Period
Built on proven BeyondRAID™ technology, the Drobo B800i delivers award-winning iSCSI SAN storage and advanced capabilities usually reserved for more expensive enterprise solutions. In fact, the Drobo B800i recently won the Editor's Choice Award from Storage Review.

The Drobo B800i is optimized for small businesses to provide reliable and high-performance storage to servers running applications like file services, data protection, email, and server virtualization. It integrates seamlessly into your TCP/IP network infrastructure and utilizes the industry-standard iSCSI protocol to provide simple, consolidated storage for your servers.

BeyondRAID Technology
A Drobo B800i iSCSI array can hold up to 24TB of raw storage and beyond. To add capacity, simply insert a new hard drive or replace your smallest drive with a larger one, even when all drive bays are full. Unlike traditional RAID systems, the BeyondRAID technology in Drobo enables you to leverage different drive capacities, allowing for continuous expansion as larger drives become available. With Drobo, expansion is automatic and instantaneous and access to data is always maintained.

Optimizing Business Applications
Similar to business applications, Drobo is ideal for building your first scalable backup server or server virtualization cluster. It has been certified for Symantec Backup Exec, Veeam Backup, VMware vSphere, and Citrix XenServer environments. Learn more about Drobo business solutions on the Drobo Broadcast Network.

Smart Volumes with Thin Provisioning
Create new volumes up to 16TB in seconds and manage them over time with ease. The innovative and time-saving Smart Volume management technology with Thin Provisioning integrated into the Drobo B800i allows volumes to pull storage from the common pool of disks rather than a specific physical disk allocation. The labor of resizing and migrating volumes is replaced with the simplicity of intelligent engineering.

About iSCSI SANs
Unfamiliar with iSCSI? It's a high-performance protocol that's become extremely popular storage networking technology in IT environments, but it can often be complex to manage. Drobo B800i changes that by introducing zero-click iSCSI configuration for both Windows and Mac OS X servers.

With an iSCSI SAN, centralized storage is provided to each server over a high-speed Ethernet network and storage can be allocated or expanded instantaneously. Also, no single server can tie up free space and there are fewer storage devices to maintain.

Protection from Two Drive Failures
Enable the dual-drive redundancy option to protect your data from failure of up to two hard drives. It's all done with a single click and without ever losing access to your data. Running out of space? Switch back to single-drive redundancy at any time. Unlike moving between traditional RAID 5 and RAID 6, there's no need to reformat or migrate data from the Drobo B800i, potentially saving you hours or days of downtime.

Rack Mount Ready, Desktop Quiet
Drobo B800i can be deployed in a server room for IT use or on a desktop for workgroup sharing of storage, thanks to its compact design and quiet operation. Dual smart fans automatically manage their speeds to optimize cooling and minimize operating noise. (Drobo B800i Rack Mount sold separately.)

Which Drives Are Right for my Drobo?
---
Drobo B800i Specifications
Connectivity
2 x Gigabit Ethernet ports, 1 x USB 2.0 (USB for initial configuration only)
Drives and Expansion
Up to eight (8) 3.5″ SATA I/II/III drives.
Drives of any manufacturer, capacity, spindle speed, and/or cache can be used. No carriers or tools required. Click here for drive recommendations.
Expandable by adding drives or hot-swapping drives with larger ones. Use the Capacity Calculator to estimate available storage in various configurations.
BeyondRAID Features
Thin Provisioning
Instant Expansion
Mixed Drive Size Utilization
Automatic Protection Levels
Single – or Dual-Disk Redundancy
Virtual Hot Spare
Data Aware
Drive Re-ordering
Management
Drive bay indicator lights, capacity gauge, status lights
Drobo Dashboard version 2.0 or later
Operating System Support
Mac OS X 10.6 or higher
Windows 8/8.1 32 and 64 bit
Windows 7 32 and 64 bit
Windows XP SP3 32 and 64 bit
Windows Server 2012 32 and 64 bit
Windows Server 2008 R2 32 and 64 bit
Windows Server 2003 32 and 64 bit
VMware vSphere 4.1.x (ESX)
File Systems Supported
Mac OS X: HFS+
Windows: NTFS
Linux: ext3
VMware: VMFS
Network Protocols
iSCSI
CHAP Authentication
Ethernet Features
Connection Failover
Jumbo frames (up to 9000 bytes MTU)
Hardware Features
Carrier-less Drive Bays
Rack Mount Kit (optional)
Kensington Lock Port for security (lock not included)
Additional Software Features
Smart Volumes (LUNs, up to 255)
Drive Spin Down
Warranty
One (1) year warranty in the US or outside the EU or two (2) year warranty in the EU.
Size and Weight
Desktop or 3U Rack Mount Form Factor (rack mount kit optional)
Width: 12.17 in (309.1 mm)
Height: 5.46 in (138.7 mm)
Depth: 14.1 in (358.1 mm)
Weight: 16 lb 3 oz (7.4 kg) without hard drives, power supply, or packaging.
Power and Cooling
Internal Power Supply: AC Input – 100/240 VAC, 1.8/0.75 A, 50/60 Hz
Power Consumption
- Idle System (standby, drives off): 13 watts
- Typical Idle System (drive spin down mode, eight (8) drives): 25 watts
- Typical Busy System (four (4) drives): 82 watts
Dual, fixed cooling fans
Environmental Specifications
Acoustics – Normal Operation: 30.4 dB
Operating Temperature: 10°C – 35°C (50° – 95°F)
Non-Operating Temperature (storage): -10° – 60°C (14° – 140°F)
Operating Humidity: 5% – 80%
Certifications
Environmental: RoHS, WEEE, REACH
Regulatory: FCC Part 15 Class A; Canada ICES-003 Class B; CE Mark; CISPR22:19973rd Edition Class B; MIC Mark; VCCI Approval to V.3; BSMI Approval to CNS13438; ACA Approval to AS/NZS 3548
Canada ICES-003 Class B; CE Mark; CISPR22:19973rd Edition Class B;
Box Contents
Drobo B800i
6 ft USB 2.0 cable
2 x 6 ft (1.8 m) Ethernet cables
6 ft (1.8 m) power cord with power supply
Quick Start Card
Getting Started Guide
Drobo Resource CD, which includes the Drobo Dashboard application