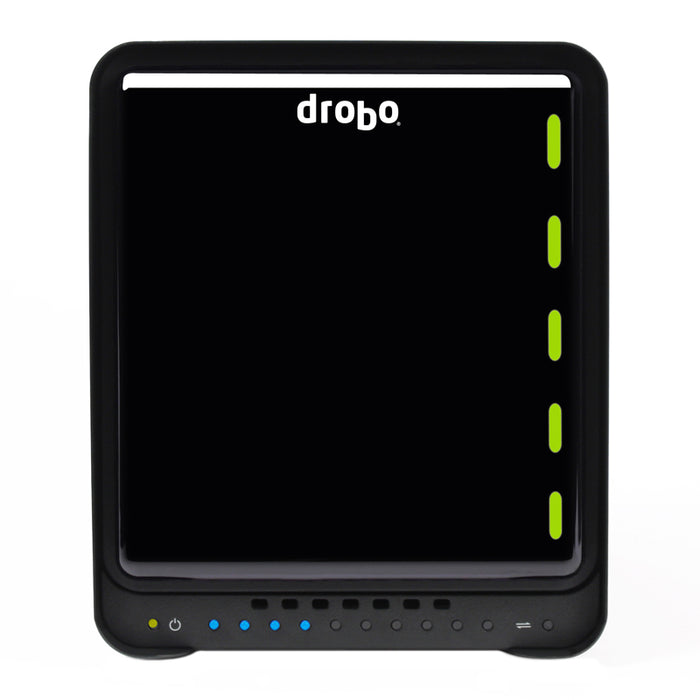 Drobo 5N 5-Bay NAS Storage Array GBE (Base Unit)
by Drobo
The Faster, Easier Drobo for Your Network
The Drobo 5N was designed with one purpose in mind: to deliver the best ever experience sharing storage and accessing data. From the moment you plug it in and it is instantly accessible on your network, you'll know there's nothing like it. The Drobo 5N is perfect for any connected home, home office, or small office environment needing a simple, safe device for sharing and backing up data over the network.

Not only is Drobo 5N fast, but it's easy-to-use, expandable, flexible, and protected—exactly what's expected from a Drobo. You can safely store and edit photos, videos, and audio files as well as store and back up all the computers on your network.

Data Protection and Expandability Made Simple
Built on award-winning BeyondRAID technology with single- or dual-drive redundancy, Drobo 5N protects your data without any user interaction, even in the event of multiple drive failures.

Drives can be added or hot-swapped on-the-fly for storage expansion with zero downtime. If you're running low on space, the lights on the front tell you what to do. Just add a drive in an empty bay or remove a smaller drive and replace it with a larger one.

High-Speed Connectivity
The Drobo 5N is equipped with a single Gigabit Ethernet port for network connectivity and connects directly to your network to make sharing your data easy. Just plug it into any switch or wireless router and you're ready to go. You can even connect the Drobo 5N directly to the Ethernet port on your computer without having to configure any settings.

Capacity AND Performance
Data-Aware Tiering technology, usually reserved for business-class storage solutions, is also available in this networked Drobo. It intelligently uses the high-performance SSDs to accelerate performance of the storage array, allowing applications such as Adobe Lightroom and Apple iPhoto or iTunes fast access to data. To keep capacity of the Drobo at a maximum, the Drobo Accelerator Bay accepts an industry-standard mSATA SSD, leaving all five 3.5" drives bays available for high-capacity HDDs.

If getting the fastest performance possible is your thing, you can also load up every drive bay with SSDs. Drobo gives you the flexibility to choose.

Power Protecting Your Critical Data
Drobo doesn't just protect you from a drive failure, but also from potential data loss after a power outage. Often found only in arrays that cost tens of thousands of dollars, Drobo 5N includes a battery that protects all data in memory, or cache, that is, data on its way to the drives.

When power spontaneously goes away, the battery keeps the Drobo alive long enough for the data to be written to non-volatile storage, ensuring your important information is safe. This battery recharges itself and is designed to last for the life of the product.

Designed for You
Drobo devices have always been space efficient and the Drobo 5N is no exception. It was designed from the ground up to provide very high capacity without taking up a lot of your valuable desk space. It is compact because of Drobo's unique carrierless drive-bay design, allowing drives to be installed very close to each other.

Drobo 5N is also significantly quieter than previous-generation Drobos due to its tuned, large, variable-speed cooling fan. You can even configure Drobo to spin down drives when they're not in use to further reduce noise and save energy.

Which Drives Are Right for my Drobo?
---
Drobo 5N Specifications
Connectivity
1 x Gigabit Ethernet port
Drives and Expansion
Up to five (5) 3.5″ SATA II/III hard disk drives or solid state drives (sold separately).
One (1) mSATA solid state drive in the Drobo Accelerator Bay for increased performance (sold separately).
Drives of any manufacturer, capacity, spindle speed, and/or cache can be used. No carriers or tools required. Click here for drive recommendations.
Expandable by adding drives or hot-swapping drives with larger ones. Use the Capacity Calculator to estimate available storage in various configurations.
BeyondRAID Features
Thin Provisioning
Instant Expansion
Mixed Drive Size Utilization
Automatic Protection Levels
Single – or Dual-Disk Redundancy
Virtual Hot Spare
Data Aware
Drive Re-ordering
Management
Drive bay indicator lights, capacity gauge, status lights
Drobo Dashboard version 2.6 or later
Operating System Support
Mac OS X 10.7 and higher
Windows 8/8.1 32 and 64 bit
Windows 7 32 and 64 bit
Network Protocols
Common Internet File System (CIFS) / Server Message Block (SMB)
Apple Filing Protocol (AFP)
Hardware Features
Carrier-less Drive Bays
Power Fail Protection
Kensington Lock Port for Security (lock not included)
Additional Software Features
Hot Data Caching
DroboApps
Drive Spin Down
Dim Lights
OS X Time Machine Support
Warranty
One (1) year warranty in the US or outside the EU or two (2) year warranty in the EU.
Size and Weight
Desktop Form Factor
Width: 5.9 in (150.3 mm)
Height: 7.3 in (185.4 mm)
Depth: 10.3 in (262.3 mm)
Weight: 8.5 lb (without hard drives, power supply, or packaging)
Power and Cooling
External Power Supply
- AC Input – 100-240VAC~2A, 50-60Hz
- DC Output – 12V, 12.5A, 150W max
Dual, fixed, variable speed cooling fans
Box Contents
Drobo 5N
6 ft (1.8 m) Ethernet cable
6 ft (1.8 m) power cord with power supply
Quick Start Card