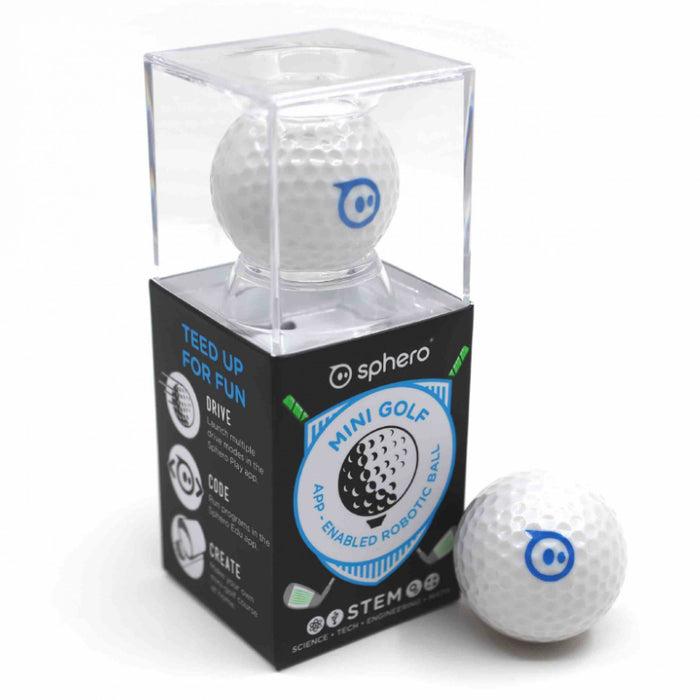 Sphero Mini App-Enabled Robotic Ball (Golf Edition)
by Sphero
Tee up the fun! Sphero Mini Golf packs a ton of play into its golf-ball-sized frame. Equipped with a gyroscope, accelerometer, and colorful LED lights, this robot does a lot more than any other ball you'll find on the links—or in the living room. Create your own mini-golf course then control Sphero Mini Golf's movements several ways in the Sphero Play app. Master Joystick, Slingshot, or Tilt mode and you'll be celebrating your first hole-in-one before you know it—no clubs necessary!
Create your own mini-golf course, program a hole in one or challenge a friend to a game. Download the Sphero Edu app to tee up your coding journey, explore activities, and share your creations with the community. Sphero Mini Golf is the perfect way for fans of all ages to have a HOLE lotta fun.
Kick Drive
Kick drive allows you to send your robot rolling with the flick of a finger. You can also tap to trap the ball and curve your flick to add spin.
Drive Modes
Explore other drive modes with your robot. Tilt your device. Pull back and Slingshot forward. Drag the Joystick. Whatever you're in the mood for.
Games
Use Mini as a controller to dodge and destroy asteroids, race through a rotating tunnel, or smash a polygon of bricks.
Code
Download the free Sphero Edu app to start coding with your robot -- draw and drive, drag and drop Scratch blocks or write your own JavaScript.