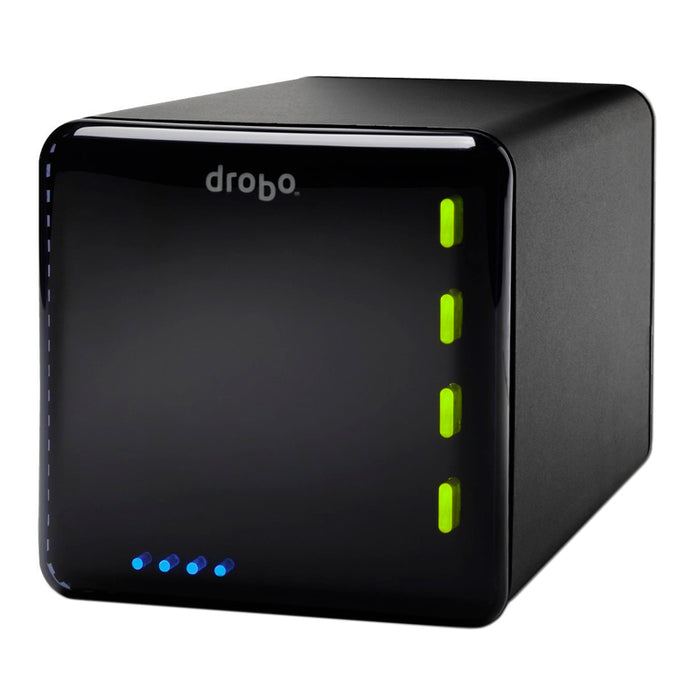 Drobo 4-Bay Storage Array USB 3.0
by Drobo
The Drobo is the latest generation of the award-winning platform that started it all. It holds true to the unique design and simplicity that has made Drobo the best desktop storage solution for storing and protecting all your data. No storage expertise is required to ensure your data is always safe and protected.

Inside every Drobo is the revolutionary BeyondRAID storage technology that protects data against a hard disk crash, yet is simple enough for anyone to use. As long as you have more than a single disk in Drobo, all data on Drobo is safe no matter which hard disk fails. There's no need to worry about anything else.

Data Protection Made Simple
Drobo is simply the easiest to manage storage solution available. Like all Drobo products, the third generation Drobo is built upon the award- winning BeyondRAID™ technology. BeyondRAID can be configured to protect against one or two simultaneous drive failures with just one click, automatically protecting your data without any user intervention. In addition, you can purchase the capacity that you need now and increase space by adding drives into empty slots, or by swapping smaller drives with larger ones. When you do, the additional capacity is instantly available.

Investment Protection
Drobo takes upgradability to the next level. Not only can you upgrade capacity as drives become more affordable and drive capacities increase with no downtime by adding or swapping in larger drives, you can also seamlessly upgrade to the latest platform Drobo has to offer. The process of upgrading is as simple as removing the existing disk pack from your previous generation system, and moving it to your new Drobo. Upgrading to the latest and greatest technology not only gives you an instant performance boost, but also delivers all the new features and benefits of your new Drobo.

Enhanced Time Machine Support
Apple's Time Machine can consume all of the capacity of an external storage system without a simple way to set capacity limits. Utilizing Drobo Dashboard the new Drobo allows users to easily allocate a specific amount of capacity to be dedicated for backups and preserves the remaining space for data storage.

Designed for You
Drobo devices have always been space efficient and this latest Drobo is no exception. It has been designed to provide high capacity without taking up a lot of your valuable desk space. It is compact because of Drobo's unique carrier-less drive bay design, allowing drives to be installed very close to each other.

Power Protecting Your Critical Data
Drobo doesn't just protect you from a drive failure, but also from potential data loss after a power outage. This latest generation of Drobo includes battery backup technology that protects all data in memory or cache. When power spontaneously goes away, Drobo moves any in-flight data to onboard flash in your Drobo so it will be protected. The protected data will be moved to your disk drives once power is restored. This ensures your important information is safe and sound. Even better, your battery recharges itself and is designed to last for the life of you Drobo.

Which Drives Are Right for my Drobo?
---
Drobo - 4 Bay Specifications
Connectivity
Drives and Expansion
Up to four (4) 3.5″ SATA II/III hard disk drives (sold separately).
Drives of any manufacturer, capacity, spindle speed, and/or cache can be used. No carriers or tools required. Click here for drive recommendations.
Expandable by adding drives or hot-swapping drives with larger ones. Use the Capacity Calculator to estimate available storage in various configurations.
BeyondRAID Features
Thin Provisioning
Instant Expansion
Mixed Drive Size Utilization
Automatic Protection Levels
Single – or Dual-Disk Redundancy
Virtual Hot Spare
Data Aware
Drive Re-ordering
Management
Drive bay indicator lights, capacity gauge, status lights
Drobo Dashboard version 2.6 or later
Operating System Support
Mac OS X 10.7 and higher
Windows 8/8.1 32 and 64 bit
Windows 7 32 and 64 bit
File System Options
Mac OS X: HFS+
Windows: NTFS
Hardware Features
Carrier-less Drive Bays
Power Fail Protection
Kensington Lock Port for Security (lock not included)
Additional Software Features
Maximum System Capacity: 32TB
Drive Spin Down
Dim Lights
OS X Time Machine Support
Warranty
One (1) year warranty in the US or outside the EU or two (2) year warranty in the EU.
Size and Weight
Desktop Form Factor
Width: 5 in (152.4 mm)
Height: 6.3 in (160 mm)
Depth: 10.7 in (271.8 mm)
Weight: 6 lb 11.3 oz (3 kg) without hard drives, power supply, or packaging
Power and Cooling
External Power Supply
- AC Input – 100-240VAC~2A, 50-60Hz
- DC Output – 12V, 4.16A, 50W max
Dual, fixed, variable speed cooling fans
Box Contents
Drobo
6 ft (1.8 m) USB 3.0 cable
6 ft (1.8 m) power cord with power supply
Quick Start Guide